We are pleased to announce that our Summer School will be open for the following courses and sessions:
MEDICAL SCHOOL PREPARATION | LAW SCHOOL PREPARATION | ENGINEERING PREPARATION | MODERN ARCHITECTURE
SESSION 1: 12TH JULY - 25TH JULY | SESSION 2: 26TH JULY - 8TH AUGUST | SESSION 3: 9TH AUGUST - 22ND AUGUST
LONDON SUMMER SCHOOL 2020
Inspirational academic & cultural programs in the top University destination London for students aged 13 to 24. Reach your potential in 2020
SESSION 1: 12TH JULY - 25TH JULY | SESSION 2: 26TH JULY - 8TH AUGUST | SESSION 3: 9TH AUGUST - 22ND AUGUST
CAMBRIDGE SUMMER SCHOOL 2020
Prestigious summer school in Cambridge with range of academic and cultural programs for students aged 13 to 24.
SESSION 1: 12TH JULY - 25TH JULY | SESSION 2: 26TH JULY - 8TH AUGUST | SESSION 3: 9TH AUGUST - 22ND AUGUST
LONDON SUMMER CAMP 2020 FOR AGES 10 TO 13
Academic and recreational residential and day camp at University of London, Bloomsbury for children aged 10 to 13
throughout July and August | study from 1 week up to 8 weeks | residential or day camp
SUMMER SCHOOL 2020 OPEN !
Our Summer School 2020 is open IN LONDON ONLY for the following dates:
12th July - 25th July | 26th July - 8th August | 9th August - 22nd August
and for the following subjects
Medical School Preparation 15-18 | Law School Preparation 15-18 | Engineering Preparation 15-18 | Architecture 15-18 | Public Speaking & Debate 15-18 | Creative Writing 15-18 | Psychology 15-18 | Young Doctors 13-15 | Advanced Medicine 18-24 | International Public Law 18-24 | Mechanical & Aeronautical Engineering 18-24
Lite Regal Education Guarantee
Please enrol on any of our Courses with confidence knowing your fees are fully protected We advise you to Please check your countries entry rules in the UK to see if there is any quarantine period needed in the UK
Arya Malek - Creative Writing & Poetry
Summer School 2019 - Student Presentation
WELCOME TO LITE REGAL SUMMER SCHOOLS IN UK
LITE Regal Summer School in UK is dedicated to academic excellence and is suited for 13 to 24 year olds who would like to gain an insight into their chosen subject or to explore new subjects, giving them an informed choice for their future studies at school or University. We offer two summer school locations the London Summer School  located in one of the Colleges of London University or the Cambridge Summer School located in one of the Colleges of  Cambridge University with students experiencing learning and being accommodated in a the college of the University of London or University of Cambridge. Our students come from all over the world creating a vibrant mix of ideas, perspectives and cultures that enhance a world view when learning together.
LITE Regal Summer School is fun, after the classes we provide a full programme of activities to suit all tastes, whether you want to be energetic and do sports or be creative with the painting group; it is your choice! We all like to visit new places so our summer courses are coupled with full day trips to cultural cities such as Oxford or to the dynamic metropolis of London. Make your summer school experience a reality; choose a session date, choose a location and most importantly choose a subject to study. Our experienced contact team are ready to answer any questions you might have and give you the best advice in making your choices.
WHY CHOOSE OUR SUMMER SCHOOLS
DOWNLOAD OUR SUMMER SCHOOL BROCHURE
Our 2020 London and Cambridge Summer School brochure is available to download now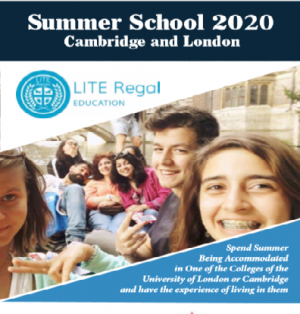 Our activity leaders have put together for you the best summer social calendar to keep you occupied, entertained and happy. Each afternoon and evening there will be a range of sporting, cultural, artistic and intellectually stimulating activities students can choose to participate in.
The highlights of 2020 will include:
WIMBLEDON TENNIS & PICNIC
After watching the world's best tennis players on the famous Wimbledon lawns enjoy a scrumptious afternoon picnic.
MAKING OF HARRY POTTER
Discover the magic of Harry Potter! Go behind the scenes of the Harry Potter film series located at the studios where it all began.  
WEST END THEATRE
Enjoy a hit performance Matilda the Musical in the West End Theatre district, the 'Broadway' of London.
SHAKESPEARE FESTIVAL
See Shakespeare come to life in the college gardens during the Shakespeare Festival.
Latest enrolments on our summer school
| | | | |
| --- | --- | --- | --- |
| 1 day ago | Inspirational Summer Camp | Alessio | Italy |
| 3 days ago | Medical Internship | Akari | Japan |
| 3 days ago | Creative Writing | Christina | UK |
| 5 days ago | Engineering Preparation | Jose | Spain |
| 6 days ago | Psychology | Ahmad | Saudi Arabia |
WHY STUDY IN CAMBRIDGE OR LONDON WITH US THIS SUMMER
LITE REGAL SUMMER SCHOOL EXPERIENCE
If you aspire to learn and engage yourself intellectually in your subject, increase your understanding and research new areas of study, whilst making new friends then our Summer School is for you. Outside the classroom you will experiencing everything cultural, historical and social that London and Cambridge has to offer. Field trips provide the opportunity to experience your chosen profession in the real world with visits to historical institutions, companies and lectures by specialists in their field further encouraging your appetite and learning experience. Classes are small, allowing concentrated and focused tuition, delivered by "Top" Tutors.
OUR LOCATIONS IN UK
Lite Regal Education is caring, professional and dedicated to providing each student with the best possible experience.  You can choose from residential and non-residential courses in either London or Cambridge or a combination of both.  All lectures take place on campus and accommodation is also on site in the college ensuring your experience is safe and secure with our welfare staff available 24/7.
English courses are delivered by native English speakers who are degree and TEFL qualified and have two years of ESL teaching experience.
ACADEMIC TRAINING
Students are taught in small groups by well educated teachers, passionate and specialists in their field. Student learning is engaging, interactive and everyone is valued to create a enjoyable and rewarding academic experience. We offer a wide range of courses, not always available in high school, that are brought to life with stimulating activities, complemented by real life experience in field and site visits. Our most popular course for 13-15 years is 'Inspirational 21st Century skills' with 2 subjects being chosen from a selection of 14. Students aged 15-18 years find Business Enterprise and Global Leadership courses informative and inspirational.
AMAZING FIELD TRIPS
As well as providing students with a superb academic training, we also conduct field visits to a variety of organisations related to their chosen course for example  Business Enterprise students visit Google Campus and Law students attend the Old Bailey, Royal Court of Justice and medical students visit a local hospital. This is supplemented by lectures and workgroups from specialists in their fields of study.
We offer two-week courses or a four-week two course combination which enables students to mix two courses over both locations – Lite Regal Summer School London & Lite Regal Summer School Cambridge.
PASTORAL CARE
Our pastoral care is of prime importance and we ensure that all students will be safe at all times, cared for within the University environment and looked after by our experienced staff during their stay.  We encourage parents and/or guardians to accompany students and tour the campus on the first day and meet our staff.   We also encourage them to attend our end of programme Graduation Ceremony to celebrate in the success and achievements.
View our Summer School and other programmes now and find out how a Lite Regal Summer School Course makes such a positive difference to each and every student intellectually and socially.