2 WEEK COURSE
Dates 2022
Fees
Residential: £4795
Non-Residential: £3750
4 WEEK COURSE
Choose 2 different courses and / or locations.
Dates 2022
Fees
Residential: £8950
Non-Residential: £7195
6 WEEK COURSE
Choose 2-3 different courses and / or locations.
Dates 2022
Fees
Residential: £12350
Non-Residential: £10725
REQUEST SUMMER SCHOOL BROCHURE
TUTOR
Bowen Cao
PhD Engineering Oxford University;
MSc Chemical Engineering Imperial College London;
TUTOR
Gaowei Wu
PhD Engineering UCL University London;
MSc Engineering Imperial College London;
COURSE HIGHLIGHTS
Location: London University, Cambridge University
Academic: Engineering Course for future young engineers 15-18
Industry link: Field visit to renowned engineering company
Outcome: Enhance your CV, academic broadening and knowledge
Awards: Certificate awarded upon completion of the course, graduation ceremony
Tutors: Highly qualified tutors, specialists in their field, educated at top Universities
Social Programme: Exciting social programme including 3 coach trips
Engineering Field trip 2021
Option 1 - Visit to Land Rover Factory
Enhance your out of class knowledge
Robots and the Manufacturing process of Land Rover
Option 2 - Visit to Institute of Civil Engineers
To see Engineering Projects that have changed the World
Affiliate Membership of IMEchE
Institution of Mechanical Engineers (Since 1847)

Gain 3.5 Credits
Receive a detailed Report
Graduation Certificate
These will enhance your CV
Exciting Workshops
Drones, VR Headsets for electrical Engineering
3-D Printers, Robots + more
ENGINEERING SUMMER SCHOOL FOR 15 TO 18 YEAR OLDS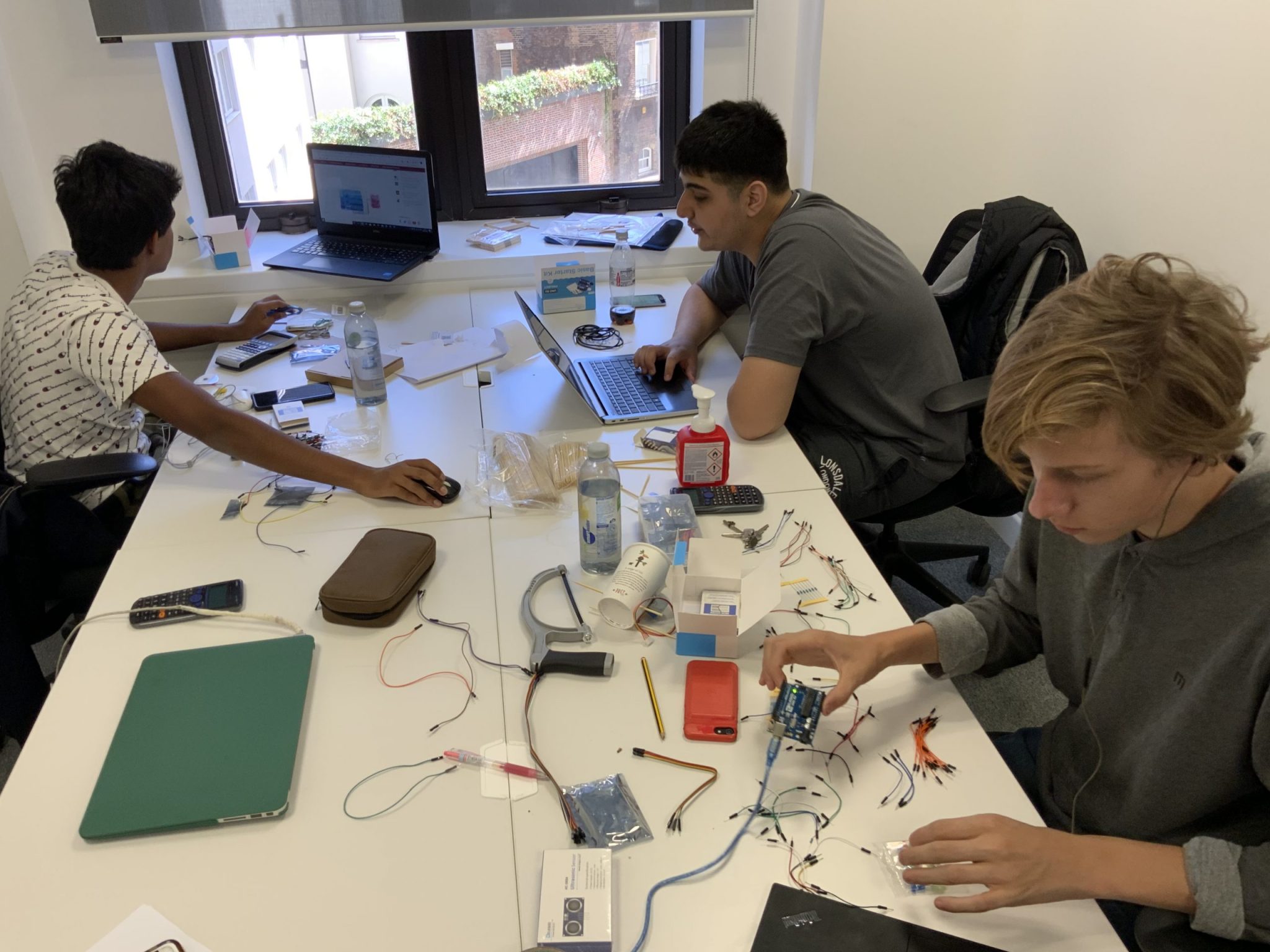 Lite Regal Engineering Students Summer 2020 Workshop Session
I am sure this year you are tired of the Pandemic - so are we - and looking forward to a Summer of learning, having fun, and being with like-minded students and future engineers from the UK and international schools around the world. Due to the successful vaccination Program in the UK, the Engineering Summer Course 15-18 will run for all dates with face-to-face teaching. Make no mistake these are not boring lessons but exciting hands-on build workshops coupled with theory and group tutorials and lessons to help you understand the engineering concepts. 
This Summer if you are 15-18 and enjoy engineering join us and in 2021 enroll with one of the Leading Engineering Summer Schools in the UK.  Be pushed intellectually and have fun! You will be with like-minded students from across the world who are learning through active workshops about modern engineering skills and techniques. This is the ideal taster course to ensure Engineering is the right Subject choice, give you a head start at University, and know what field of engineering you would like to pursue. Enroll with confidence knowing your fees are fully protected and you can move dates as you wish without incurring any penalty and also for all enrolments after 1st January 2021 we will return any monies paid to us if you are unable to attend because of any travel restrictions or if COVID-19 restricts you from attending. For our COVID flexible booking policy look here.
Engineering Summer Course in London or Cambridge University Highlights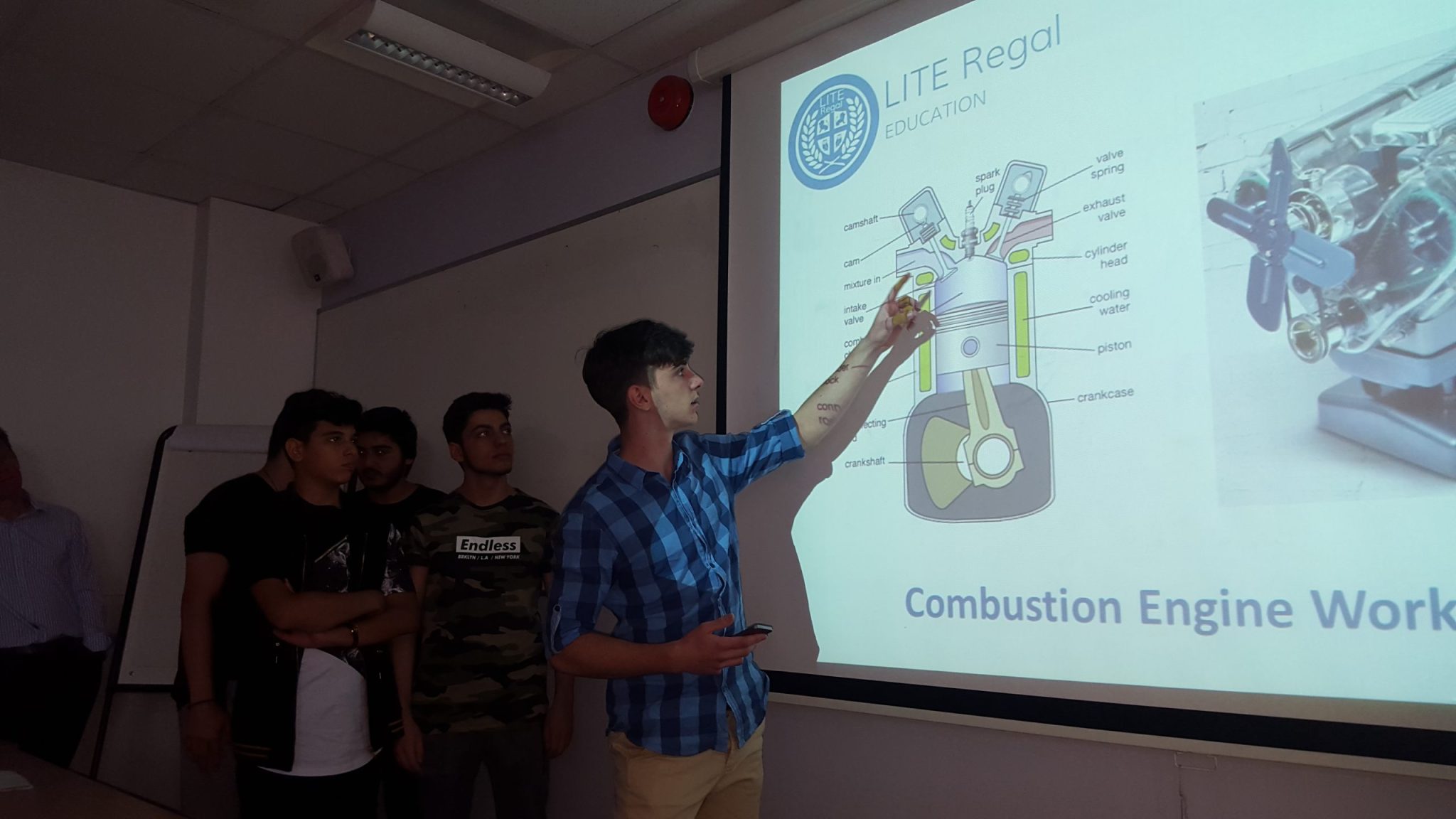 Lite Regal Engineering Summer Course is the number 1 leading Engineering Summer Course in UK for all those teenagers aged 15-18 who like to live, learn and importantly have fun in one of University Campuses of London or Cambridge and make NEW friends with UK and International  Students and like-minded future Engineers.
You will learn engineering in this summer engineering course through active workshops and building individually and in groups robots and mechanical structures so you think like an Engineer.
Projects and Workshops for 2021 include :
1/ Students will have to build and design an autonomous quadcopter (drone) housing a stabilised camera from the "bottom up" using motors and parts. Engineering students will learn about Fluid Dynamics, mechanical and aeronautical engineering. Students will be graded on flight performance, durability, longevity of flight and accuracy of controlling the drone.
2/ Students will have to design and build a potentially zero emission "flying object" that once scaled up should be capable of carrying large numbers of passengers long distances without the need for refuelling. Students in small groups or individually during the course will be required to design and build a working prototype and model of one of zero emission engine. Students will learn about electrical, mechanical, structural and aeronautical engineering in this project.
3/ Build combustion engines, turbines engines and structural bridges and tall building and learn about engineering in this unique Summer Course.
Lite Regal Education Engineering Summer School is one of the Worlds and UK's leading Engineering Preparation Summer Courses for students aged 15-18. This summer course is intended for the young Engineers of tomorrow. It is primarily aimed at those students wishing to study Engineering or Engineering related subject at a Top UK University. Those students wishing to gain invaluable knowledge in engineering and science and who intend to study in a "Top" University or Engineering College in the UK or abroad will greatly benefit from this Engineering summer school course. Students will have the unique experience of living and learning this Engineering course in one of the colleges of  Cambridge or London University during the duration of this course - these Universities are top 10 leading Universities in the world.
Any student who is currently studying science at school and likes to build and construct things and is interested in Engineering should consider this course.
We find that many students who attend our Engineering summer course want to make sure that the Engineering "route" is the right choice for them in the future. Here at Lite Regal Summer School, our tutors explain the various fields within Engineering and through innovative and exciting workshops allow students to learn, build and design various Engineering structures - such as design and build a robotic vehicle, bridges and also a drone.
With the best tutors who are patient and by immersing bright, inquisitive students from all over the world with exciting workshops and lectures students will come knowing what being a 21st Century Engineer is all about.
This summer course will provide insight through lectures into the various engineering disciplines and to understand the different fields of engineering taught at the undergraduate level at University. The engineering course for students aged 15-18 will include seminars and workshops to help students sharpen their interview techniques, resumes and advice to gain a place at these Universities. Students will be taught applied mathematics and scientific principals necessary for a successful entry in Engineering.
Why Choose LITE Regal Engineering Summer School
"The Lite Regal Engineering Course was not boring and I learn Engineering through Exciting Workshops" - Ali Ramadan
The student will learn Engineering through not through boring lessons - but by classroom and tutorial times where students will discuss Engineering with practical workshops and Engineering build projects. Importantly students will be one another and creativity will increase and enthusiasm and confidence in Engineering will increase.
Importantly Lite Regal has the one of the best and the most dynamic and Creative / Innovative engineering course and summer school with workshop lessons where you will learn by doing and building from all the Summer Schools. The workshops are in line with 21st Century modern Engineering and these workshops will motivate Students.
We are always changing and updating our syllabus content in line with the changing world of Engineering.
The exciting Workshops for 2021 will include the following where Student will build and use :
3 D Printers ( design and use 3 d printers to see structures come to life) build and fly latest Drones
The latest Virtual Reality headsets in Engineering - use Virtual Reality headsets in the designing and building of 3d models
Build Civil and Mechanical Structures - Building. Bridges and Robots
Lite Regal Engineering Students will use the  latest 3d (virtual reality) VR headsets to see 3D Engineering Design in action
Top academic tutors/lecturers majority (80%) who have studied either at Cambridge or Oxford University will teach you an exciting academic programme with practical labs covering real-world concepts. This academic immersion and an exciting social programme will allow you to mix, make new friends and enjoy your summer with us.
The Engineering summer school programme will include guest speakers and a field visit to a top engineering/science organisation to see and identify how technology, science and engineering help them in their company.
As well as the above LITE Regal Summer School has teamed up with businesses to provide our young students with a unique field visit to a Scientific/ Engineering company to see how science and engineering research/ development and business is done in the "real world".
Academic information for Engineering Summer School
You will learn different disciplines such as biological, chemical, electrical, material, and aeronautical engineering. You will also take part in a number of hands-on activities, be introduced to some core concepts in engineering, and witness first-hand exciting technology as well as have practical labs to enhance and reinforce that knowledge.
You will learn about the different branches and disciplines of engineering:
aeronautical engineering
chemical engineering
civil engineering
earth sciences engineering
electrical and electronic engineering
material engineering
mechanical engineering
You will also be "exposed" to practical simulations to design and construct structures to reinforce the knowledge gained. Through theory and practical application and group discussion, the learning will be enjoyable and rewarding, and intellectually stimulating.
New additions in the Engineering Preparation 2021 Workshops will include:
Students on the course will :
1/ Use 3 D Printers to design 21st-century moving objects – Students will design cars or planes and then using 3d Printers see their design come to life. They will learn about aerodynamics and about how jet and mechanical propulsion engines work and the development of future forms of fuel.
Learn about the design and Engineering behind the Blackbird Engineering Students from Lite Regal from around the world will learn about stealth Technology and Propulsion of the SR21 which still holds the Speed and Altitude Record of any aircraft.
2/ Build Mechanical and Civil Structures – build model bridges, tall model building, and various structures and learn about Civil and Structural Engineering – with the help of the tutor and peers students will make an assessment of the type of material to be used to build the structure, grade of material and to calculate the internal and external forces that the student's structure would have to withstand should it be built to life-size.
3/ Build a Jet Propulsion and Mechanical Engine to see how this works.
4/ Build a Hydrogen-Powered Model Car – learn about clean energy and hydrogen vehicles that use hydrogen as its onboard fuel for power.
5/ Discuss and learn about all the different Streams of Engineering.
6/ Learn how to apply and what is necessary to get admissions into a Top Engineering University.
7/ Tour of Oxford and Cambridge and London and well as a tour of the Top University Colleges in the UK to get the feel of a Top Class University – Students will visit LSE, IMPERIAL, Oxford and Cambridge Colleges.
Lite Regal will make the Engineering Course practical, fun and students will learn by doing with the best workshops and lead by the best University tutors. The tutors to make every lesson and workshop Interesting.
8/ New for 2021 and due to huge demand Students will build and fly their own drones.
9/ Virtual Reality – Use and learn the latest Oculus Rift Headset for Engineering Design
Students will learn about the different fields of engineering and classical engineering principles, from aeronautical engineering to chemical engineering and civil engineering. Students will learn the theories and challenges faced by today's engineers to ensure that the career choice and University choice is right for them.
Aeronautical Engineering
Learn about fluid mechanics, propulsion and lift. Build a self propelled model.
Science & Engineering Concepts
Learn hands-on introduction to science, technology, engineering, and mathematics opportunities
Civil Engineering
Learn about the design and construction of physical structures. Dams, Roads, Bridges, Water-Mill (above)
"Industry" Visit
Visits to an engineering company. 
LITE Regal Summer School has introduced unique and dynamic workshops and tutorials into the 2021 Engineering Summer School Course that will take into account new and exciting changes within the Engineering field especially in Mechanical Engineering, Civil Engineering and Chemical Engineering. These additions will make LITE Regal Engineering Summer School Course one of the most innovative and practical courses that spread over 2 or 4 weeks and will educate the future 21st Century Engineer.
Whilst  keeping the traditional core content  through a series of lectures and workshops the summer course will also introduce robotics, artificial intelligence and through aeronautical engineering - space exploration.
By the end of the Engineering Summer School course you will:
understand the academic principles required for success in your chosen field
gain an introduction to the scope of possibilities in engineering and science careers
build confidence in your academic and leadership abilities
learn leadership and debating skills
learn to work productively and creatively in an increasingly diverse nation and connected world
Unique to the Engineering Summer School course will be a Field Visit to an award winning company to discover how scientists and engineers will tackle and solve problems in the real world. This year we will be be visiting companies such as Hyder Consulting and Land Rover – a multinational design and engineering consultancy renowned for working on some of the world's most iconic buildings and structures.
Lite Regal Engineering Summer Course in London and Cambridge - Encourages more girls  to study Engineering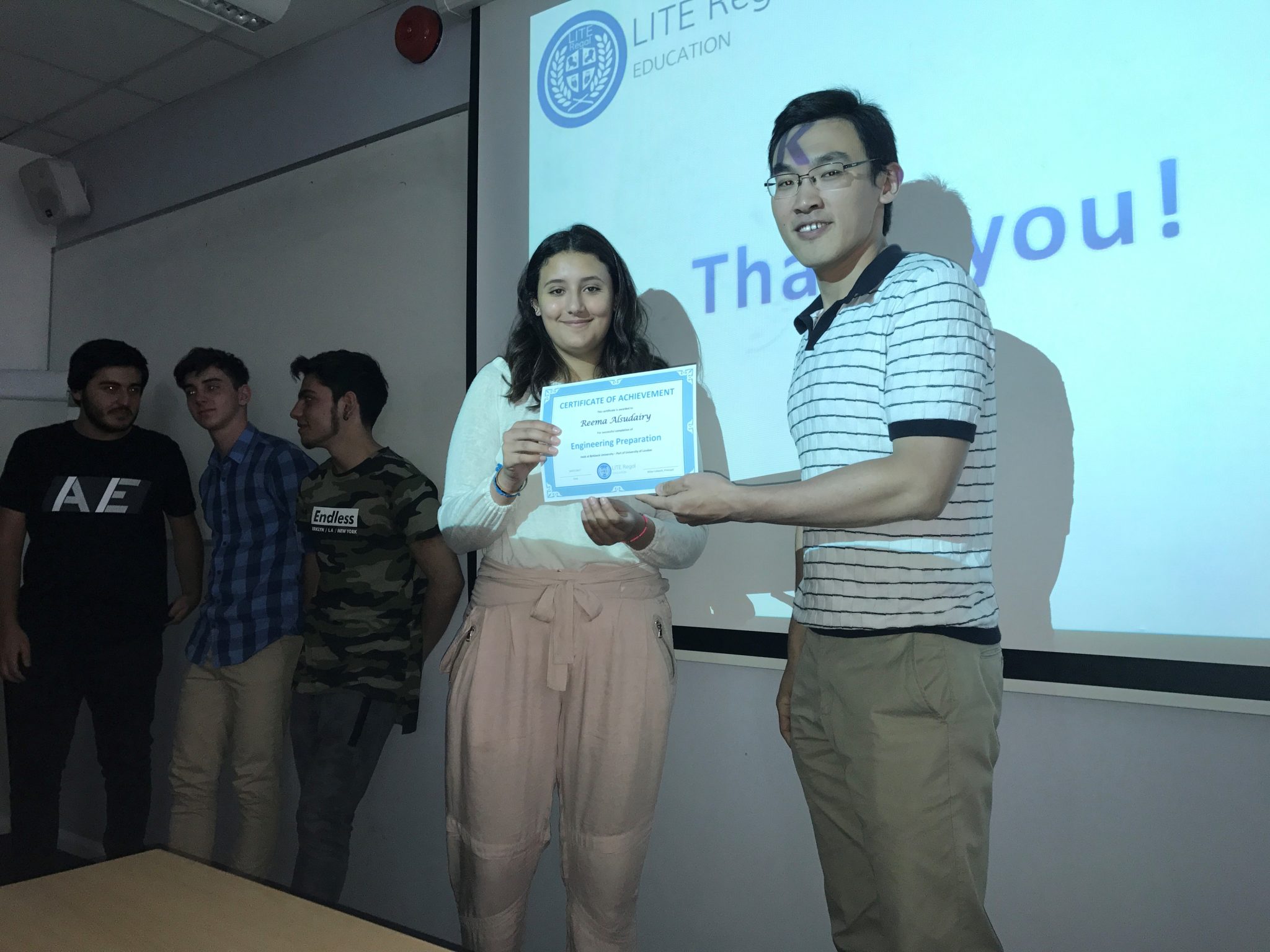 Miss Reema - Graduation Ceremony and Receiving her Certificate and Engineering Report in UCL London
Some of the Speakers you will listen to :
Seminar: How to get to Mars and back!
Have you ever considered what it would take to travel to Mars and get back? This talk will look at the engineering problems and solutions to some of the technological challenges that space agencies like NASA will need to overcome for astronauts to land successfully on Mars and return back safely again. In 2013, having previously worked on two NASA missions to Mars, Professor Pike worked with the BBC to design a mock mission to Mars. The basis of his researches will form the foundation of this talk.
About the speaker
Professor Pike works on the development of micro-instruments for space and terrestrial applications. He has previously worked on two NASA missions to Mars. He is Professor of Microengineering at the Faculty of Engineering, Department of Electrical and Electronic Engineering at Imperial College. Previously he developed a technique for determining the strain in semiconductor hetero-structures at the nanometer scale at the Cavendish Laboratory, Cambridge. While at the Jet Propulsion Laboratory in Pasadena, he used silicon micro-machining to produce instruments for planetary exploration including prototypes for a Mars lander.
LITE Regal Summer School will be an experience to remember. You'll develop personally and academically as you are inspired, challenged and supported. From the Engineering Summer School course you can expect to:
gain invaluable insight through workshops that could prove advantageous in your future University application and career choice
find out about various forms and principles of creative writing, which are not necessarily taught at school but could be perfect for you to study at University
develop critical solving skills
make new friends from all over the world
learn from world-class academics and researchers at a University ranked second best in the world
consolidate and develop your current knowledge of creative writing
improve your study skills whilst working in a range of stimulating environments
develop your practical skills as well as your theoretical knowledge
work in teams to develop your interpersonal and organisational abilities
enjoy LITE Regal Summer School experience
The LITE Regal Summer School isn't all about work! Our dedicated Events Team has created an exciting action packed social programme to complement your studies to ensure you have as much fun as possible, make friends and get the most out of your stay with us.
Please visit our activities page for more details: Cambridge  London
Cultural Excursions
Excursions take a full advantage of an excellent transport network both from London and Cambridge, giving you a real taste of life in England.
Destinations can include: Harry Potter World, Windsor Castle & Eton College, Oxford, Brighton, Chessington World of Adventure.
After School Activities
There is so much going on in London and Cambridge and we don't think you'll be bored. After classes you'll have a range of activities to enjoy too.
Here are a few examples of the kind of activities you might have the opportunity to enjoy this summer:
visiting London Eye, Madame Tussauds or the famous Houses of Parliament, film nights, punting down the river, visiting a West End Theatre, themed parties, sports including tennis, swimming, dancing and many more.
Free Time
We understand that students will want some free time to relax, attend to personal administration and contact their families. Some free time will be provided for rest and relaxation, however, we believe the most valuable experience to the student is a fully immersive, packed programme of activities and so students should expect to be engaged in team activities for the majority of time.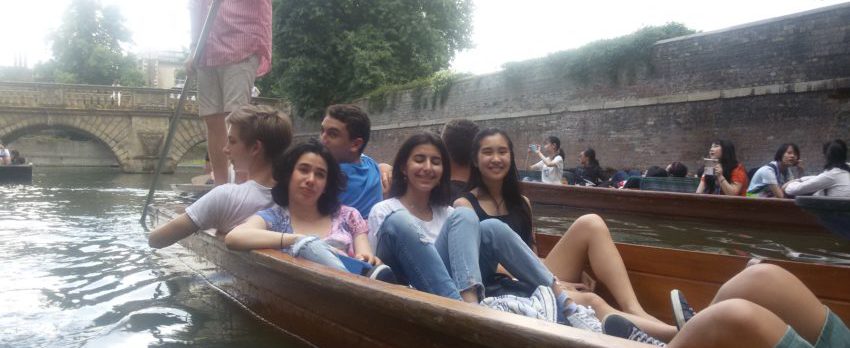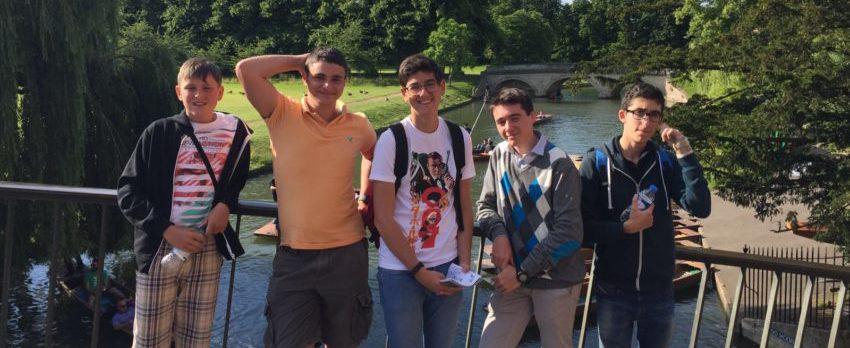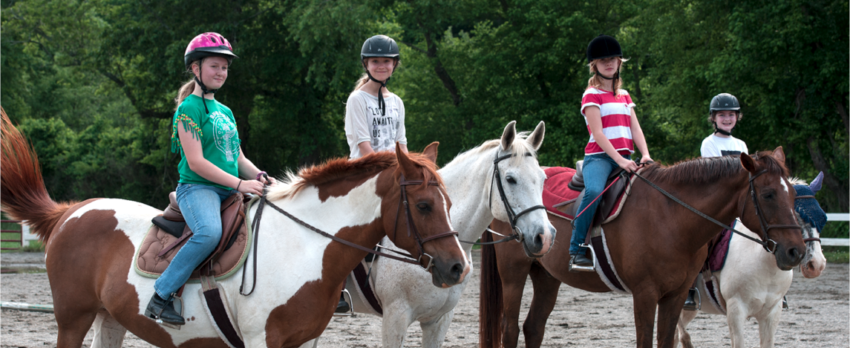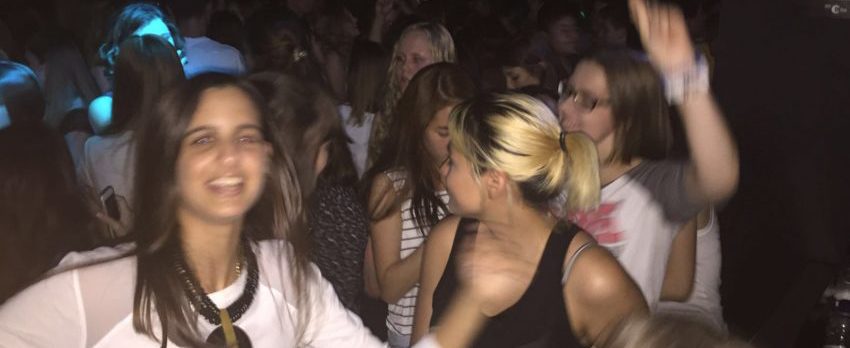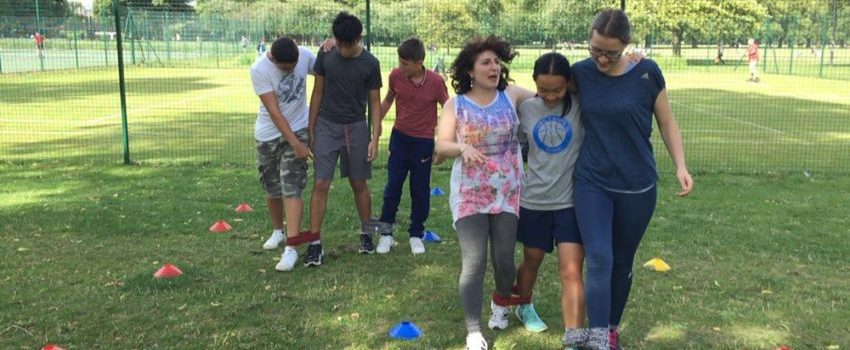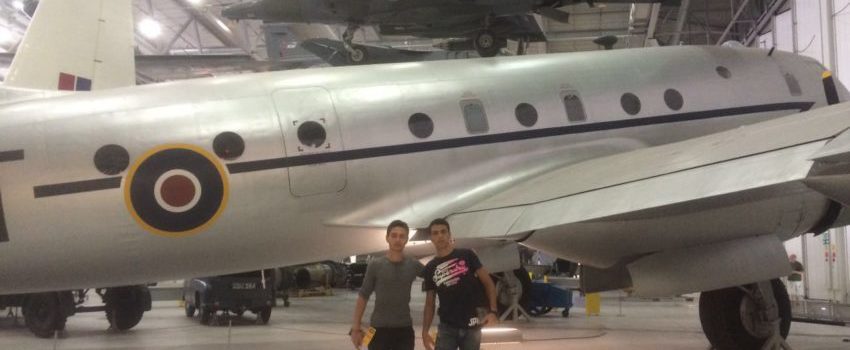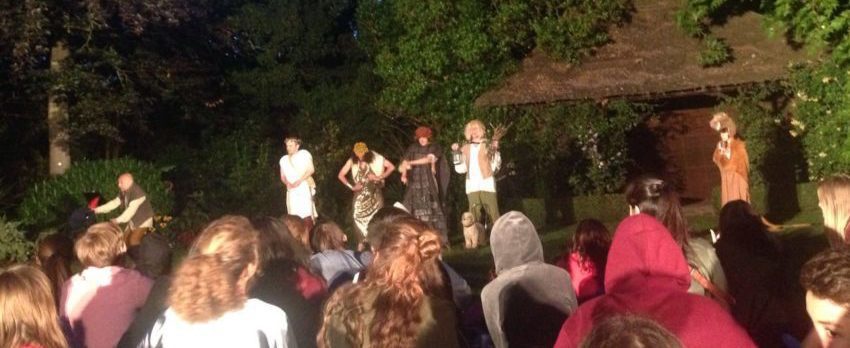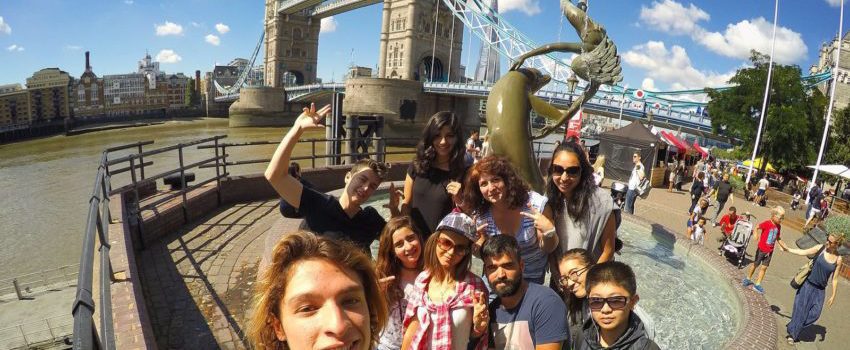 You will be accommodated in one of the College campuses. You will be allocated a room, usually sharing a twin room with another student of the same gender. Typically students will be accommodated on single-sex corridors or floors, with staff members and mentors always available on site. Living all together is a great way to make friends and sample the university lifestyle, as the welcoming environment allows you to develop a sense of community.
Breakfast and lunch is served and eaten in the College dining hall, which provides a bright and comfortable space for communal meals. Students will enjoy a varied and healthy diet: all meals are freshly prepared and special diets can be catered for with advance notice. A three-course dinner is provided daily either in the College dining hall, or in various restaurants as part of the social programme.
Safety and Security on Campus
Students will be overseen by our course leaders and residential staff to classes and activities, who ensure that students are looked after pastorally and socially during their summer school programme and are available to assist students at any time of the day or night.
All students will be issued with emergency contact details for staff members and will be given a full safety briefing on arrival.
LITE Regal Summer School offers a safe and secure environment that is staffed 24 hours a day, 7 days a week by our friendly and professional team. We have a dedicated team of Managers, Teachers and College Mentors. The welfare of our students is our main priority at all times and our staff specialise in the pastoral care of older teenagers.
Management Team
Our Management team is headed by the College Principal, who takes responsibility for the daily running of the summer school, and supervises the Academic Programme. The Social & Welfare Manager takes charge of the summer school Social Programme and is supported by a team of College Mentors, who ensure everyone is happy, safe and having fun.
Working together, our Managers ensure that every aspect of the summer school runs smoothly, safely and offers every student the chance to participate fully.
College Mentors
Our Mentors are key members of staff who support and assist our students within the college accommodation and throughout the summer school social programme. Our team of College Mentors work with our Social & Welfare Manager in organising the summer school's social events and excursions, as well as accompanying students into campuses and during day trips. They are approachable and caring, ensuring that all students get involved in the life of the summer school.
Students on the Engineering Summer School course:
must be aged 15-18 before 1st September 2021 (if you are unsure of the age criteria entry please contact our registration team)
must show enthusiasm for Maths, IT, Engineering
must be fluent or near-fluent English language speakers – if you are unsure whether your English level is suitable for this summer course, please contact our registration team
must show motivation for attending the summer school programme and participate in terms of attendance at lessons, meals and events
All successful applicants will also be required to provide a signed letter of consent from their parent or guardian. If offered a place on the Engineering Summer School course, students and parents / guardians will also be required to sign a Code of Conduct for the summer school.
How are we different from other Summer Schools?
We have an international school that specialising in University Preparation

 and

summer school

and since 1993 have been helping 

International

 and UK Students achieve 

their

 goals, motivate them, responsibility, give them confidence for their future and importantly learn independence

You will always have choices in the workshops and trips and cultural excursions

We have the best teachers - very  friendly and all educated in the Best Universities in the World

The lessons are very hands-on and we blend classroom time with practical workshops and out of 

classroom

 

excursion

 to bring your 

Subject

 to Life - for 

instance

 computing students will go to Google Campus to see 

Computing

 out of the classroom
We always have guest speakers and the best tutors
Small classes of up to 10 students to 

maximise

 your 

learning

 and encourage 

personal

 development and discussions within the class.
We value your 

opinion

 and 

during

 the course unlike other summer schools there will be a choice of activities to choose from and you can sign up for - One of the highlight is always a trip to the West End Theatre - we before hand we ask 

students

 their choice.
Importantly we will always 

ensure

 you have fun and enjoy your time with us
The cost of one LITE Regal Summer School programme is £3,995 and includes the following:
Tuition
Over 40 Hours Of Tuition Over Two Weeks
All Course Materials
Guest Lectures And Industry Visits
Academic Reports And Certificates
Social programme
Wide Range Of Afternoon & Evening Activities
3 Coach Excursions To Various Parts Of UK
Graduation Party
Living
Accommodation On The London or Cambridge University Campus
Breakfast, Lunch And Dinner
Free WiFi (subject to availability)
Bed Linen & Towels Provided
Plus
LITE Regal Summer School Welcome Pack
T-Shirt
Souvenir
How To Apply for the Engineering Summer School
Applying online is the fastest way to secure your place on one of our summer school courses. Please note that a 15% deposit or full payment is required when submitting your online application. We cannot process the application until at least the deposit has been received. If for any reason we cannot offer you a place, any fees you have paid will be refunded.
As the places on our Engineering summer school courses are limited we recommend you to settle the remaining balance for your course as soon as possible. The remaining balance is due no later than 60 days prior to the start of the course.
Please click the link below to get started with your application: You will need to select the course(s) and dates you wish to study with us.
If you would like to, you can apply for one of our summer school courses via paper application form, which can be downloaded by clicking the link below. A deposit of 15% of the full payment or the full payment is required to accompany your application form. This can be paid by credit / debit card, bank transfer or cheque. Our bank details are provided on the form. We cannot process the application until at least the deposit has been received. If for any reason we cannot offer you a place on one of our summer school courses, any fees you have paid will be refunded.
As the places are limited we recommend you to settle the remaining balance for your course as soon as possible. The remaining balance is due no later than 60 days prior to the start of the course.
Please complete the application form providing as many details as possible and send it back to us in one of the following ways:
by email to:
admissions@literegal.co.uk
by post to:
LITE Regal Education, Berkeley Square House, Berkeley Square, London W1J 6BR, United Kingdom