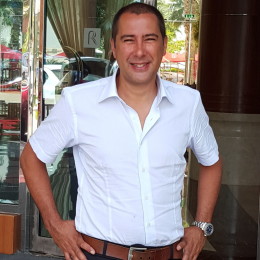 Dear Esteemed Students, Parents and Teachers,
I am especially honored that out of all the academic programmes that are available on the open market you have expressed interest in our academic programmes.
For over 30 years I have been involved in the education business and set and managed successful schools in the UK and abroad.
I have witnessed 1000's of students and become a personal friend and built long standing relationships with the alumni. Nothing brings me more satisfaction than seeing the progression of a student in their personal, academic and career life. To see a teenager who enters our college to study Law Preparation and to see the emergence many years later as a Barrister or a student whose native language is not English to emerge into a fluent speaker who then enters into a prestigious UK University is rewarding. I understand that we have been a small step on that path and the most effort has to be done by students, who through hard work and "sweat" have achieved their goals.
I have witnessed the change of nationalities who have enrolled – in the past years we have seen an increase in students from Argentina, Australia, Brazil, China, Columbia, Cyprus, Czech Republic, India, Italy, Japan, Greece, Malaysia, Montenegro, Mexico, The Philippines, Singapore, South Africa, Slovakia, Turkey, Russia and many more. Of course students from the traditional countries such as UK and America continue to enroll.
I believe our success has been on listening to our students. I myself have been through the system and remember of being in classes with academically bright lecturers but who were unable to translate their knowledge in a captivating and coherent way. We at LITE Regal choose tutors who are both academically talented but also creative in delivering the subject matter in an interesting and understandable way.
Lite Regal Students enrolled on the Summer Courses will experience living in a Cambridge College or London University College. We have chosen the best University Towns in the the UK to allow students to immerse themselves within the best surroundings with a thorough  academic course complemented with related historical and course related excursions.
Ultimately, the success of our programmes is by the immersion of different nationalities and the energy they contribute throughout the programme. The awe of students who study a course with LITE Regal is to be within the same building and touch the "same" walls of notable individuals who have passed through London University and these include 4 Monarchs, 52 Presidents or Prime Ministers, 74 Nobel Laureates. My favorites whom have been students at London University are John F Kennedy and Mahatma Gandhi. Those notable Alumni of Cambridge University include 9 monarchs and 15 Prime Ministers, 88 Noble Laureates. My favorites whom studied at Cambridge include Sir Isaac Newton, Steven Hawkins and T.S Elliot.
All I leave you with now is the hardest choice – to choose your subject matter and place of study or as some do – they simply study 2 subjects – one in London or  Cambridge.
Sincerely,
Mr Milan Lebloch BSc(Hons), MSc (Lond)
Founder and Principal